HIS 6850 Fan 1GB GDDR5 PCI-E HDMI/2xDVI/DP

Référence
H685F1GD
Code EAN
4895139004601
Refroidissement
Fan
GPU
6850
Fréquence GPU
775 MHz
Fréquence mémoire
4000 MHz
Capacité mémoire
1024 MB
Type de mémoire
GDDR5
Interface mémoire
256 bit
Interface
PCI Express x16 (PCI Express 2.1)
Dimensions de la carte
12.6 x 4.2 x 23.2 cm
Dimensions du la boite
32.27 X 9.45 X 15.25 cm
Availability
Immergez-vous dans l'ambiance de vos jeux grâce à la technologie AMD Eyefinity
Elargissez le champ de bataille de vos jeux préférés sur plusieurs écrans simultanément grâce à la technologie AMD Eyefinity.
Ajoutez et enlevez à votre guise et facilement les écrans supplémentaires.
Boostez votre productivité en disposant de toutes les informations dont vous avez besoin sous vos yeux, sur jusqu'à 3 écrans simultanément.
Pourquoi choisir entre jouer, regarder un film et surfer sur le net alors que vous pouvez tout faire en même temps avec 3 écrans à disposition.

Connectez jusqu'à 3 écrans sur une seule carte graphique et étendez votre aire de jeu sur l'ensemble de ces écrans. Profitez d'une expérience incroyablement immersive grâce à cette capacités multi-écrans innovant
* Un écran avec un connecteur DiplayPort est nécessaire pour activer le troisième écran dans une configuration ATI Eyefinity. Un dongle DiplayPort-DVI est nécessaire pour les écrans avec connecteur DVI.
Profitez de graphismes exceptionnels « EyeDefinition » avec la technologie DirectX® 11.
Préparez-vous à jouer aux plus beaux jeux grâce à la seconde génération de cartes graphiques 100% compatibles DirectX® 11.
Grâce à un taux de rafraichissement éclair et des effets visuels ultra réalistes, profitez d'une expérience de jeu en HD époustouflante avec les AMD Radeon™ HD 6800.
Jouez à vos jeux préférés en full stéréo 3D, et profitez d'un gameplay incroyablement riche et interactif grâce à la technologie AMD HD3D.
Avec leur performance en tessellation hors du commun, les Radeon™ HD 6800 sont capables de vous apporter les détails graphiques que vous méritez.
Accélérez les applications et profitez de vidéos incroyables avec la technologie AMD EyeSpeed.
Exécutez à plein régime les applications les plus exigeantes grâce à la Technologie de traitement parallèle avancé (APP). Faites-en plus, plus vite.
Profitez de vidéos en ligne et Blu-ray d'une qualité d'image incroyablement soignée grâce à la technologie d'accélération visuelle AMD EyeSpeed.
Grâce à la technologie AMD HD3D, profitez de la véritable qualité originale 3D Blu-ray.
Profitez également du Dolby TrueHD et de l'HDTV 3D des AMD Radeon™ HD 6800 pour recréer l'ambiance d'une salle de cinéma.
Vivez une expérience visuelle et audio renversante et inégalée grâce la technologie HD3D
Compatible avec les écrans/lunettes stéréo 3D
Jeux en Stéréo 3D
Compatible Blu-ray™ 3D
Compatible avec les logiciels tiers de 3D stéréoscopique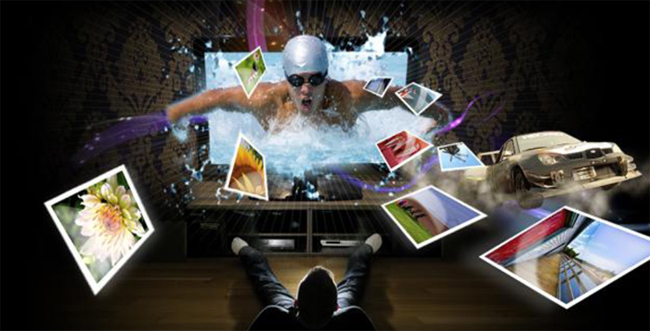 Avantages et caractéristiques des HD 6800
| | |
| --- | --- |
| Caractéristiques | Avantages |
| Prise en charge Microsoft® DirectX® 11 | La nouvelle architecture compatible DirectX® 11, prend en charge le traitement des modèles géométriques et améliore les performances graphiques de vos jeux : qualité d'image incomparable, effets 3D époustouflants, éclairage réaliste et images plus vraies que nature. |
| Technologie multi-affichage AMD Eyefinity | Immergez-vous totalement dans l'ambiance de vos jeux grâce à la technologie multi-affichage AMD Eyefinity |
| Traitement Parallèle APP | Exécutez à plein régime les applications les plus exigeantes |
| Interface de Mémoire GDDR5 | Pour une bande passante plus rapide et plus large. |
| Technologie AMD CrossFireX™ | Améliorez les performances de vos jeux grâce à la technologie AMD CrossFireX™ |
| Architecture de traitement unifié TeraScale de 3e génération | Le Moteur TeraScale calcule les données plus rapidement pour les derniers jeux en date et les applications accélérées |
| Technologie 40nm | Permet d'accélérer la vitesse de calcul tout en utilisant moins d'énergie et un meilleur rendement des transistors que sur les générations précédentes |
| Transcodage Vidéo Accéléré | Pour un transcodage vidéo amélioré |
| Système flexible d'écrans multiples | Plus de flexibilité et une connectivité maximale pour s'adapter aux derniers écrans en date |
| HDMI 1.4 | Profitez pleinement de l'expérience Blu-ray et PVR à partir de votre PC |
| Support Master Audio Dolly®TrueHD et DTS-HD | Immergez-vous totalement dans les derniers films Blu-ray grâce au système audio haute-définition |
| Technologie de gestion de l'alimentation AMD PowerPlay™ | La consommation d'énergie dépend de l'activité du GPU. Lorsque celle-ci est faible, la consommation d'énergie est minimale |
| Décodeur Vidéo Universel (UVD 3) | Visionnez les plus beaux films Blu-ray, les vidéos en ligne et autres contenu HD en résolution 1080p ou plus, grâce à une carte silencieuse et de faible consommation utilisant l'accélération GPU et le Décodeur Vidéo Universel (UVD 3) |
50% de réduction sur le logiciel Tridef® 3D Experience pour l'achat d'une Radeon HD 6800
Le logiciel TriDef® 3D Experience permet de convertir la 2D en 3D à l'aide des cartes graphiques Radeon HD 6800.

Pour en savoir plus, rendez-vous sur http://www.hisdigital.com/un/news_show-140.shtml
Le Pouvoir d'HIS
Excalibur, symbole de la puissance du roi Arthur, de par son pouvoir mystique et sa beauté captivante apportait la victoire à son détenteur, combat après combat.
HIS brandit de nouveau l'épée légendaire pour les joueurs.
La légende renait… préparez-vous à conquérir le monde du jeu !
Les avantages des produits HIS
HIS vous garantit des produits plus rapides, plus silencieux, qui chauffent moins et d'une qualité supérieure !
Un service après vente et un support technique professionnels.
Contenu de la boîte :
Une carte graphique HIS
2x Câbles d'alimentation
Un adaptateur DVI vers VGA
Un CD d'installation avec manuel d'utilisation multilingue
Guide d'installation rapide
Sticker HIS Power UP
| | |
| --- | --- |
| Modèle | HIS 6850 Fan 1GB GDDR5 PCI-E HDMI/2xDVI/DP |
| Chipset | Radeon HD 6850 PCIe Series |
| ASIC | RadeonTM HD 6850 GPU |
| Processus de fabrication (Micron) | 40nm |
| Quantité Mémoire (Mo) | 1024 |
| Type de Mémoire | GDDR5 |
| Fréquence (MHz) | 775Mhz |
| Mémoire CLK (Gbps) | 4Gbps |
| Largeur de bus (bit) | 256 |
| Alimentation requise | 500W minimum |
| Résolution Max. | 2560*1600 (Ecran Unique) |
| Interface du bus | PCI Express x16 |
| Display Port | Oui |
| HDMI | Oui |
| DVI | DVI-D single-link en haut+ DVI-I dual-link en bas |
| VGA | Via l'adaptateur DVI vers VGA fourni en bundle |
Système requis pour les HD 6850
PC avec port PCI Express ® comprenant un emplacement 16x et deux emplacements disponibles sur la carte mère
Alimentation 500W minimum avec deux connecteurs 75W PCI Express® 6-pin recommandée (une alimentation 600W et quatre connecteurs 6-pin pour une configuration AMD CrossFire ™ en dual mode)
Alimentations certifiées recommandées. Rendez-vous sur http://ati.amd.com/certifiedPSU pour obtenir la liste des produits certifiés
Mémoire système de 1Go minimum
Les logiciels d'installation nécessitent un lecteur CD, un clavier, une souris et un écran
Un lecteur DVD et un DVD sont nécessaires pour la lecture d'un DVD
Un lecteur Blu-ray ainsi qu'un disque Blu-ray sont nécessaires pour la lecture d'un film Blu-ray™
Une deuxième carte graphique AMD Radeon™ HD 6800, une carte mère prenant en charge CrossFireX™ ainsi qu'un pont CrossFireX™ sont nécessaires pour faire fonctionner un système AMD CrossFireX™ .
August 14th, 2012 at 04:13 pm
By Trystan Spooner
This is a fantastic card for the serious gamer on a budget. I'm very satisfied that you can play the latest games in full HD 1080p without lag. For all you gamers who are on the cheap, this HIS HD 6850 is the card for you.
January 13th, 2012 at 06:23 pm
By Virat
i have this card in crosfire and play with 2 monitors card has best scaling and its a good value for money
December 9th, 2011 at 08:23 pm
By Valeriu
Best choice for price value!
I have one for about one year and i am very satisfied.
November 10th, 2011 at 04:36 pm
By Mustansir Abid
This is a beast of a card at this price point. Maxes out most of the games at 1080p and even at load the noise level isn't all that high.
Temperatures are also quite good. Idling around 40s and at heavy load stays below 75C.
A highly recommended buy!
September 18th, 2011 at 08:20 am
By Matheus Dantas
very very very good video card, the best xd
September 17th, 2011 at 01:06 am
By Jason
Want a good quality card that plays all the latest games at 1080p. The 6850 runs at a cool 68c under load with an ambient of 27c. The card it self is surprisingly powerful and quiet.
10/10 HIS.
March 22th, 2011 at 04:47 am
By ANIS
HIS 6850.....It work on DG43NB MOTHERBOARD.
February 22th, 2011 at 01:37 am
By SOHAIB ARSHAD
its a very very good card
Post your comment
Comments will be reviewed by the editors before being published, mainly to ensure that spam and irrelevant material are not published . Please feel free to comment!
We strongly encourage you to use your real name. E-mail addresses are required in case we need to follow up with you directly. We won't publish your e-mail address unless you request.






HIS has won over 1700 awards with AMD graphic solutions from major media worldwide.
"The model is currently one of the most exciting graphics cards for those who look at the price. It provides ample performance for most current games (up to 1,920 x 1,080) but has also pleasantly low power consumption with its compact design. The HIS 6850 is our absolute recommendation for all noise-sensitive users. With this HIS card you solve the noise problem elegantly without giving up performance." Chip.de

"The HIS HD6850 not only performs well at the stock speeds but overclocks very well so we can get even more performance out of it. it is a good cooler that keeps the card cooler than a reference board With a score of 8/10" Bjorn3D "Silver Bear Award"

"When we tried to increase frequencies on the graphics card, it was difficult to find the limit. Radeon HD 6850 är ett utmärkt grafikkort att överklocka. Radeon HD 6850 is a great video card to overclock.... Power consumption is low and on par with the GTX 460 768 MB."-Mikrodatorn "Recommended Product"

"Just as expected, the HD6850 had a LOT more to offer in terms of overclocking than the Catalyst had shown.The HIS HD6850 also got up to 1000 MHz, which is also very impressive." Metku "Gold Award"

"though imrpovement of speed, cooling system and card size, HIS HD 6850 1024MB 256-bit GDDR5, PCI-E remains a non-standard product in terms of layout and JI." - iXBT.com "Original Design"


"The HD 6850 is an excellent graphics card. In the DX11 gaming benchmarks Metro 2033 and Alien Vs. Predate it sets new benchmarks in its price class. Overall, the card is fast enough to enjoy the latest games in HD"- PC Go "Sehr Gut Award"


"new tesselation calcul unit, UVD 3, new video interface support, 3D...Regarding the HIS product especially, the reviewer find it quiet when idle and not to loud when in charge.For the temperature ,measurement are of 45°C under windows and 77°C under Furmark that are very good values to the reviewer opinion." - PC Jeux. "90% score"

"the cheapest available on the market, the HD 6850 card" - NVISION "Recommedntation Product"

"The HIS HD 6850 1GB GDDR5 Video Card is one of the best bang for the buck video cards out there. While it doesn't scream performance it is affordable and is jam packed full of features. Get a couple of these in a Crossfire setup and you're rockin'" - 3D Gameman "Gameman's Choice"

Viperlair

"The performance of the card is really good at this price point, and sits in the lower mid-range very well. HIS Radeon 6850 1GB either matched or beat our comparison card, I think they are being a little conservative here, or perhaps that's the point. The 6850 will perform better than or at least the same as a more expensive GTX 460 1GB." - Viperlair "Recommended Product"


"(Referring to HD 6850) GTX 460 1GB performance at GTX 460 768MB pricing, and with GTS 450 power draw. Really, what's not to love? Tessellation performance has improved, power draw has dropped and heat has also dropped while keeping noise levels the same. Then there's the fact that it performs pretty much in line with a HD 5850 for less." TweakTown "Editor's Choice"

"It's really a budget gamer and if you're not gaming then there are dozens of cards which will run your desktop and HD movie needs, but if you are looking for a 3D compatable HTPC card then this could be right up your street!" - Overclock3D - "Bronze Award"

"HIS also managed to reduce power consumption even further, boosting performance per Watt some more. Improvement in performance per Watt" - TechpowerUp - "Recommended Award"

"The Radeon 6850 offers plenty of performance for today's games. This product simply makes really good sense. It will bring a lot of value to the table but will also allow you to play your games at 1920x1200 extremely well. From a price point of view that makes this product really nice. The two cards tested today run beautifully, seem faster than the reference GTX 460 cards and can even match the GTX 470. The cards neither are noisy or running hot and the overall game performance really is spot on." - Guru3D "Recommended"

"the new cards are off to a good start, offering good bang for buck, something that Radeons have come to be known for. The HD 6850 is not too shabby itself and is a really decent offering too if you can't stretch your budget to meet the HD 6870." - Hardwardzone

Retour