Gear Up AC Power 85W 20,000mAh Portable External Battery Charger (US)

Product Code: HACPB20US

EAN Code: 4895139010091

Product Dimension: 18.6x12.9x2.8cm

Giftbox Dimension: 24x17.4x6.8cm

Product Weight: 0.6kg

Full Packaging Weight: 1.1kg

Introduction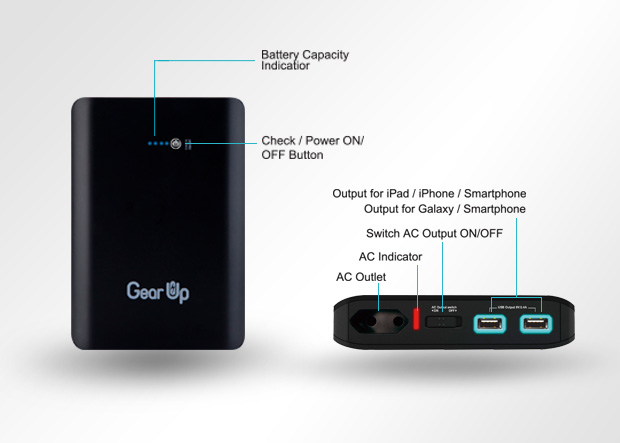 Features
Powered by AC Power Everywhere You Go!
Sitting still with nothing to do will no longer happen again when your laptop, tablet or mobile phone run out of battery. Now you just need to take out the AC power from your bag to continue your journey. With Gear Up AC Power Bank, you have AC POWER when you are on the road, on sailing or even in the airplane. You no longer need to seek for a seat which is next to a wall outlet in a coffee shop, restaurant and airport lounge.
Power All Your Favorite Devices
Gear Up Power Bank charges all your favorite electric devices such as Tablet, Apple MacBook & iPad, Samsung Phone. This AC PowerBank is much easier to carry than a bulky power supply and outdoor generators. It can even charge your home appliance under 65W like a fan, table lamp, radio and TV.
Empowered by Premium Battery
Gear Up AC Power Bank uses a premium battery material that is qualified in charging Tesla electric car. It can charge up any AC power devices up to 65W for 13,000mAh and 85W for 20,000mAh. At the same time, you can enjoy DC power for 12V devices.
Sleep Tight, No Worry For Blackout In Darkness Anymore!
Gear Up AC Power Bank is an ideal backup power solution to replace huge and heavy power supply and outdoor generators for low power consumption devices under 65W (13,000mAh) or 85W (20,000mAh).
Charge All Your Devices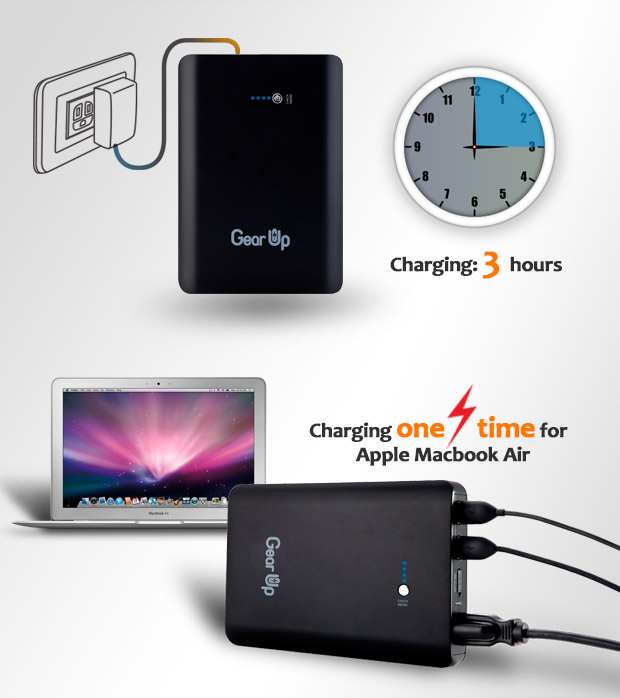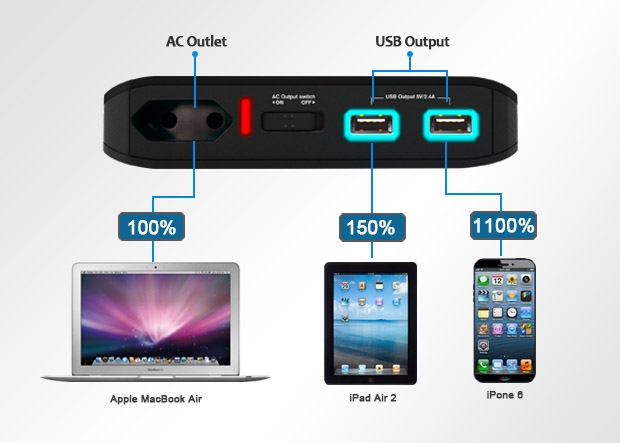 Application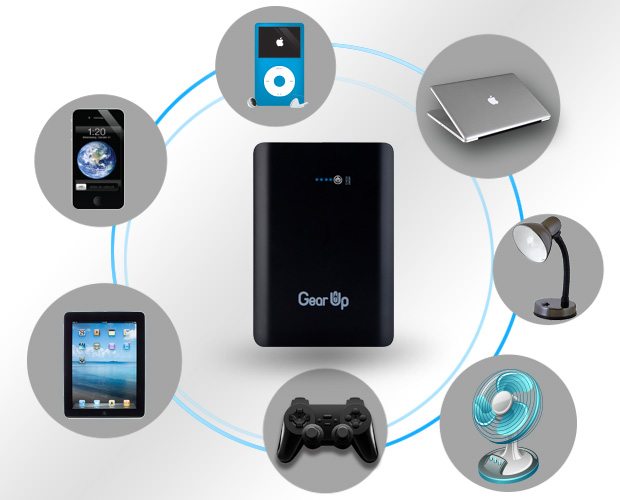 Safety Protection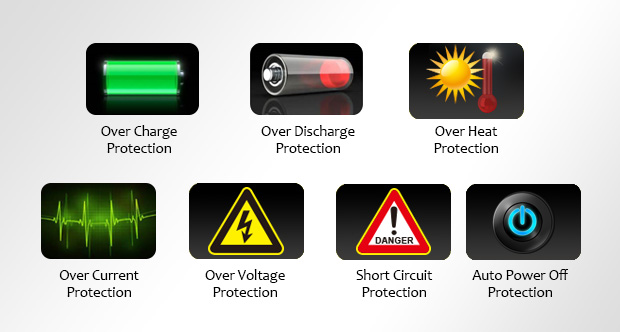 Function

Portable power to charge your USB device Tablet and Laptop

Capacity

20000mAh (85W Max)

Type

Li-ion 3.6V 3000mAhx8
I

nput

Dc 19V/2A

USB Output

DC 5V / 2.4A

AC Output

AC 250V 60Hz

Output Port

USB Port x2, AC Outlet x1

Lift Cycle

More than 500 times

Dimensions

18.6 x 12.9 x 2.8cm (H X W X D)
W

eight

0.6kg

Safeguards

Over Charge protection

Over discharge protection

Over heat protection

Over current protection

Over voltage protection

Short circuit protection

Auto power off protection
February 18th, 2015 at 01:24 am
By Peter Enge
HISdigital has dwarfed all other powerhouse manufacturers such as Duracell on the portable power banks. Other run-of-the-mill manufacturers simply do not have what it takes to make these kind of products. How big and heavy is a portable power bank that is capable of providing an 85W AC power outlet and 2 USB ports to charge all cell phones, notepads, and notebooks? This Gear Up 20000mAh Portable AC Power Bank (the "Power Bank") is sized like a pocket novel weighing half a kilo. It is amazingly portable.
The AC outlet is like any other AC outlet in a fixed environment. Away from this environment, you can plug a lamp to light up the camp, boat, or any imaginable rescue scenario. Just imagine a beacon of light which lasts hours and hours if you're under the snow or stranded in the mountains. The implication could mean life or death by having or not having this Power Bank.
Dramatics aside, unlike other products requiring 2 different types of USB ports for cell phones and other devices, this Power Bank has 2 USB ports which regulate the power output automatically. This feature alone can save your expensive phone if you are not sure which USB port to plug in for re-charging.
As described in HISdigital's in-depth product information page http://www.hisdigital.com/ca/product2-869.shtml, this Power Bank can charge a notebook computer to 100% of its capacity. Other power banks provide different tip sizes to charge the computer directly. But there is no guarantee one of those tips is the right tip - which I found out painfully with my HP Envy 15. It is definitely a no go for a gadget that requires direct AC inputs. The clever design of providing the AC outlet allows the user to plug in his/her power adaptor which solves all these unknown issues.
My HP notebook shuts down at 7% battery level. I recharge it while using this notebook and the charging time is 12 minutes for every 10%. This is like having its adaptor plugged into a wall outlet with the battery icon displaying n% available (plugged in, charging). At 21%, I shut it down to charge for 12 minutes. Upon restart, the computer has been juiced up by a whopping 16% - it now shows 1 hr 36 min (37%) remaining. And… this Power Bank still shows >75% remaining capacity. I can extend the use of this HP notebook for another hour and half by simply charging it for 24 minutes. This is no cake-walk when HISDigital uses a premium battery material qualified for the Tesla auto-pilot electric car www.Teslamotors.com.
The USB ports can fully charge a notepad and in addition, have another 50% power to spare for another gadget to juice up. It can fully charge all 11 of your buddies' cell phones – how's that for making yourself a hero? While on extended trips, this Power Bank can be fully charged in less than 3 hours – that's the duration for a movie, a meeting, or most conveniently, a car drive (with an inverter/AC outlet). The Power Bank provides assurance that you won't be powerless. As they say, "Don't leave home without it." There's nothing comparable in the market.
Post your comment
Comments will be reviewed by the editors before being published, mainly to ensure that spam and irrelevant material are not published . Please feel free to comment!
We strongly encourage you to use your real name. E-mail addresses are required in case we need to follow up with you directly. We won't publish your e-mail address unless you request.





HIS has won over 1700 awards with AMD graphic solutions from major media worldwide.
"Strong Points:

Can simultaneously charge two USB devices and one 120V AC device "


Christ Centered Gamer

Back